The rules of the real estate game have shifted dramatically in today's digital era. No longer is it enough for real estate agents to rely on traditional marketing methods. So, to thrive in the real estate world, it's important to have a commanding digital presence powered by an efficient real estate website with delicate attention given to website design.
The design of your real estate website can make the difference between attracting potential clients and pushing them away. From the moment a potential client lands on your homepage, your website's header immediately sets the tone. From typography to layout, your real estate website design is the digital facade of your business.
Your website can become your arsenal's best real estate tool. It's not just an online 'business card' but a compelling platform that showcases your listings in the best light, effortlessly connecting directly with clients and prospects. It's about ensuring every section, every landing page, and every template is customized to provide a user-friendly experience. That means optimizing for SEO practices and, wherever possible, using a powerful and flexible platform like WordPress for customization.
So, if you're a broker, a real estate agent, or even an entire brokerage, ask yourself: Is your online presence as robust and impressive as your physical one? If not, you're in the right place.
This article will guide you through the essentials of real estate website design with Ostmosis Labs. Stay tuned as we dive into this digital feat, showing you how to use website design to turn your online platform into a real estate hotspot.
Prioritize User Experience (UX) In Your Real Estate Website Design
User Experience (UX) reigns supreme in real estate website design. Gone are the days when having a simple listing page sufficed; today's users demand engaging, seamless experiences. Prioritizing UX in your web design could be the key that unlocks your path to becoming the best real estate agent online. Here's how:
1. Intuitive Navigation:
First and foremost, your real estate website should be easy to navigate. A well-structured menu, clearly defined categories, and a powerful search function will help users find exactly what they're looking for. It's crucial to make your audience feel in control while using your platform.
2. Quick Loading Times:
Time is of the essence, especially in the real estate game. Website users don't like to wait; they expect a fast and efficient experience. Slow load times can frustrate potential clients, prompting them to hop off your site and onto another. Ensure your images and multimedia are optimized for speedy loading.
3. Mobile-friendly Design:
With more people using mobile devices to browse the internet, having a responsive, mobile-friendly design is no longer optional—it's a must. The web design must adjust seamlessly to different screen sizes, providing a consistent experience, whether viewed on a smartphone, tablet, or desktop.
4. Customized Landing Pages for Each Listing:
Every property or listing you have is unique, so why should your listing pages be any different? Customizing listing pages to highlight each property's features provides a unique experience and increases the potential for conversion.
5. SEO Optimized:
Your site may look fantastic, but is it attracting the right traffic? By employing the best SEO practices, you increase the chances of potential clients finding you on search engines ahead of other brokers or brokerages that might not have their SEO game up to par.
6. Typography & Aesthetics:
A well-designed website should be as visually appealing as it is functional. Choosing the right typography, colors, and overall aesthetic that reflects your brand can make your real estate website stand out from the crowd.
By focusing on UX, you're not just designing a real estate website; you're crafting an experience to better engage your clients, nurture leads, and boost your web presence. Trust Ostmosis Labs to guide you through this journey seamlessly.
Harness SEO To Get The Best Website Design For Real Estate Agents
Harnessing the power of Search Engine Optimization (SEO) can revolutionize your online presence in real estate. SEO is not just a buzzword; it's a powerful tool that puts your real estate website content right under the nose of potential clients actively searching for properties. Websites that understand and utilize SEO best practices have a distinct edge in visibility compared to their competitors.
Keywords are Key: Incorporate relevant keywords in your content—the words and phrases users type into search engines. The best real estate website designs are built around these user queries, ensuring potential clients find exactly what they're looking for when they reach out to you.
Optimize Meta Tags: Meta tags provide vital information about your website to search engines. They play a pivotal role in attracting the eyes of search algorithms. Accurate, concise meta tags with keywords help rank higher in search results.
Speed Up Your Site: Site speed is critical in SEO and UX. Search engines rank websites faster and higher because they provide a better user experience. Moreover, users are more likely to stay, explore, and convert on a website that doesn't keep them waiting.
Local SEO, a Must: Real estate, as is its SEO, is all about location. List your real estate business on local directories and Google My Business to push up your visibility where it matters the most.
Content Marketing: Engaging, quality content is crucial for SEO. Remember, your potential clients are homebuyers seeking valuable information. Create content that answers frequently asked questions, offers tips, and provides insight into the ins and outs of the real estate industry.
Mobile Optimization: Over half of all online searches are done on mobile devices. A great real estate website design ensures that the site offers an excellent user experience, whether viewed on a computer or a smartphone.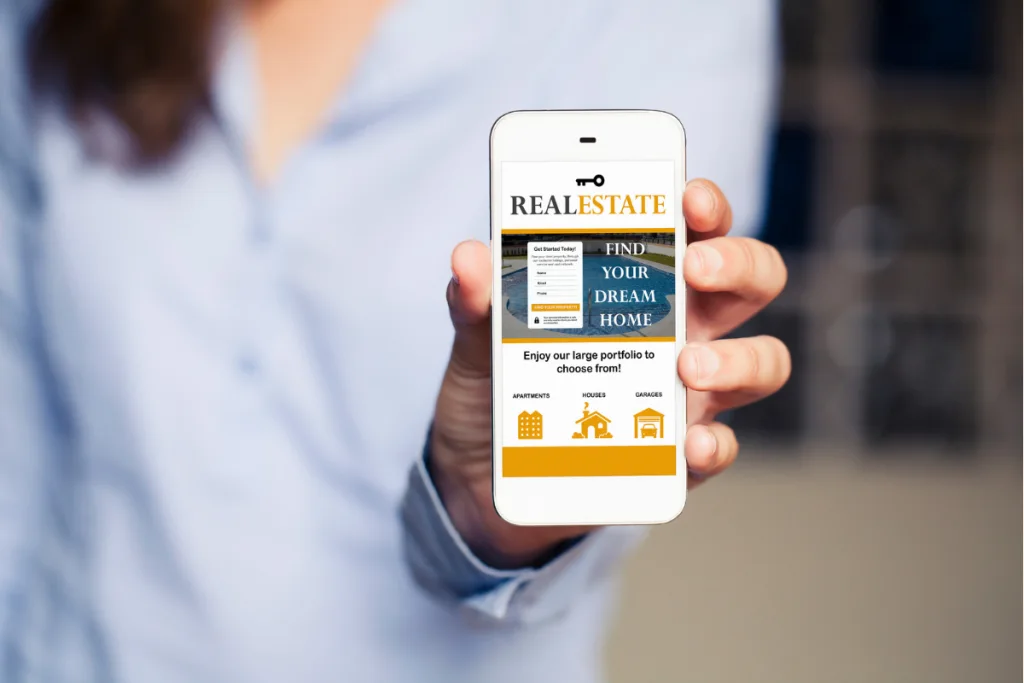 Social Media Integration: Ensure your website is integrated with social media platforms. Not only does it provide additional avenues for traffic, but search engines also recognize this interaction as a sign of a quality resource.
Remember, a well-optimized website is not just about having 'the best properties'. A modern design and user-friendly UI are a given. But the difference lies in how easily you can be found by clients searching for exactly what you offer.
Utilize High-Quality Photos And Videos To Get The Best Real Estate Website Design In 2023 And Beyond
Harnessing the power of visuals can dramatically enhance your real estate website design. High-quality photos and videos are more than just accessories; they inform, engage, and convert potential clients in ways that no amount of written content can. By utilizing top-notch visuals, you will be well on your way to creating a best-in-class real estate website. Here's how:
High-Resolution Photos: We live in an age where most users can access high-resolution screens. Your real estate website should take full advantage of this by displaying listings that feature stunning, high-resolution images. This provides your clients with an in-depth look at properties and reflects the premium nature of your sales and service experience.
Videos for Engagement: Videos can humanize your business and showcase properties like no other media. Include professionally produced introduction videos, virtual home tours, or even neighborhood walkthroughs to give potential clients a real feel for your offerings—enticing them to reach out for more information.
Drone Footage: Tired of flat, static images? Elevate your visuals with drone footage! Modern real estate websites utilize this increasingly popular technique to showcase property exteriors, landscapes, and perspectives that are often impossible to capture with conventional photography.
3D Walkthroughs: 3D walkthroughs and virtual tours have been game-changers in the world of real estate website design. Especially relevant in a post-pandemic world, these interactive experiences allow clients to virtually explore properties from the comfort of their homes—saving time and effort while ensuring safety.
Media Optimization: While high-quality visuals are essential, optimizing them for quick loading times is equally important. Compressed image formats, lazy loading, and prioritizing above-the-fold content are just a few ways to keep your website fast and efficient.
User-friendly Image Galleries: A sleek, attractive image gallery showcases properties and provides clients with a sense of browsing through a high-end catalog. Invest in a sophisticated and user-friendly gallery that is easy to navigate and leaves a lasting impression.
The visual appeal of your real estate website is a crucial factor that helps to seal the deal. By leveraging high-quality photos and videos, you can elevate the entire user experience, encourage interaction, and leave potential clients in awe of your offerings.
Incorporate Client Testimonials In Your Web Design
Nothing speaks louder than a satisfied customer. That's why incorporating client testimonials into your real estate website design is an absolute must. These personal endorsements build trust and credibility, proving that your real estate services are top-notch. Here's how you can leverage this powerful marketing tool:
1. Prominently Display Testimonials: Don't hide your testimonials on an obscure page. Make them a centerpiece of your design. The best real estate website designs incorporate rave reviews where they're easy to see on the homepage, property listings, or sandwiched between CTAs. This helps to reinforce positive sentiments throughout the user's journey.
2. Video Testimonials: While written testimonials can work wonders, video testimonials take your credibility to another level. By seeing and hearing happy clients speak about their positive experiences, potential customers are more likely to emotionally connect with your real estate business.
3. Link Testimonials to Properties or Agents: Going the extra mile linking testimonials with specific properties or agents allows potential buyers to see relevant reviews directly. Likewise, this lends authenticity to your site's user experience, giving visitors a deeper understanding of your commitment to stellar service.
4. Social Proof: Combine your website testimonials with positive reviews on social media platforms or real estate websites. This showcases an overall positive online presence and the credibility of your real estate company among various sources.
5. Make it Easy to Leave Testimonials: Many satisfied clients may want to leave a review but might not know how. Include a simple, easy-to-use testimonial submission form on your website to encourage more reviews.
6. Respect Privacy: Not all clients may want their names displayed online. Ensure you have consent to display people's information and be willing to use initials or first names only if requested. Including testimonials is about more than just good website design; it's about bridging the gap between online operations and real-world, successful real estate transactions.
This builds trustworthiness around your brand and makes potential clients comfortable initiating contact. Remember, your website is a crucial touchpoint for your audience, and every element, including testimonials, should work towards fostering trust and rapport.
Provide Useful Content
Providing high-quality, useful content is a key ingredient of a successful real estate website design. Not only does it reinforce your expertise and industry knowledge, but it also increases SEO rankings, boosts user engagement, and aids in lead conversion. Here are some guidelines and strategies you can employ:
1. Setting Up a Blog:
Creating a blog on your website is an effective way to serve useful information to potential clients. A WordPress template can offer a simple, user-friendly solution. Your blog should echo the look and feel of your site with a clear header, customized typography, and an easy-to-navigate layout featuring IDX listings.
2. Sharing Expertise On Real Estate:
Position yourself as an industry expert. Share valuable insights about the ins and outs of the real estate market, the nuances of buying or selling properties, or tips for first-time homeowners. Customers often need guidance; your content can help them feel confident in making decisions.
3. Local Market Trend Analysis:
Location-specific information is key to real estate. You become a reliable source of timely information by keeping users updated on community news, local market trends, and significant developments.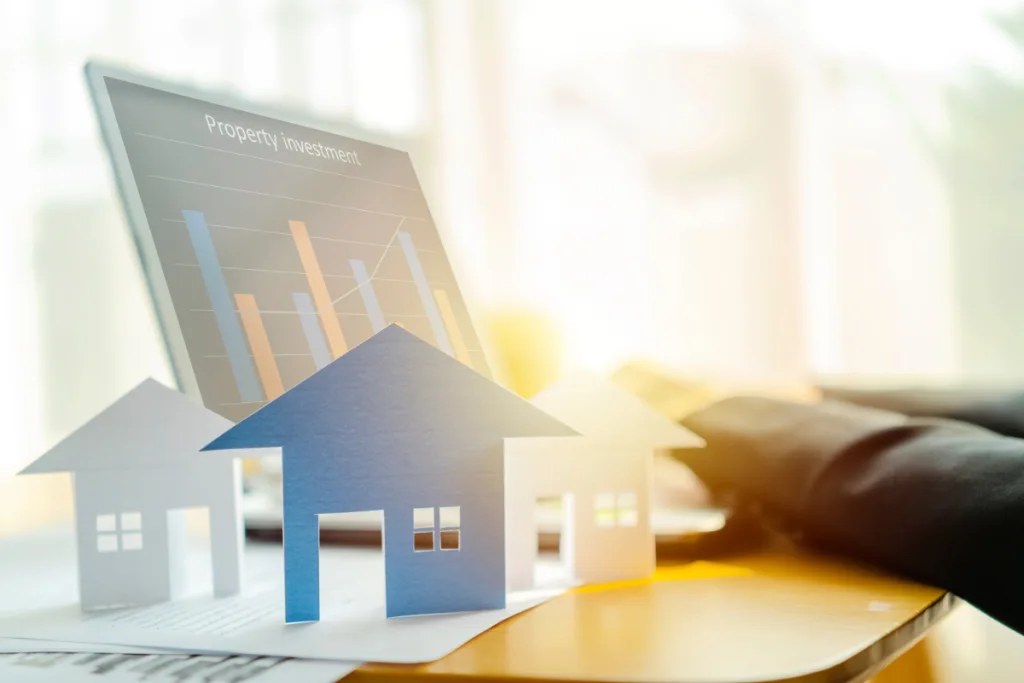 4. Property Features and Presentation:
Detailed descriptions of your listings help clients make informed decisions. This includes floor plans, neighborhood features, and property specs, all in an easy-to-digest, engaging format.
5. Homeowner Tips:
Helpful tips for homeowners, such as home maintenance recommendations, DIY project ideas, or energy-saving hacks, enrich your content further and keep users engaged.
6. SEO Optimization:
Pay attention to search engine optimization (SEO). Use keyword-rich blog titles, header tags, and meta descriptions to increase visibility in search results.
7. Regular Updates:
Regularly posting new, relevant content keeps your website fresh, improving your SEO rankings and encouraging repeat visitors. Remember, your real estate website is more than a digital catalog of available homes. It is a platform to share your expertise, provide valuable information, and foster client connections.
By focusing on providing useful content, you transform your site from just another brokerage landing page to the best real estate website for advice, information, and, of course, fantastic property listings.
Integrate Social Media Concepts
Social media integration should feature prominently in a real estate website's design. Leveraging platforms like Facebook, Instagram, or LinkedIn boosts your digital footprint, empowers your marketing strategy, and consolidates your online presence. Here's why this integration is a best practice for robust real estate business growth:
Displaying excellent, high-quality images of your property listings across social media platforms is a reality. The same properties can be used for a virtual tour, creating a seamless user experience. Accompanying these visual displays with a compelling CTA and an IDX-enhanced home search option will help you secure the bag.
Not just a business platform, social media can serve as a gallery for your modern design elements, exhibiting your stunning real estate website to the world's best designers for inspiration. This emphasis on aesthetics enhances the first impression for potential clients. Social media integration provides potential homebuyers with an in-person or virtual face-to-face contact form. Whether through phone or email, prompt responses to inquiries and comments can foster relationships and potentially convert visitors into clients.
Distributing your blog content on social media helps educate a broader audience about the ins and outs of the real estate industry. Your best properties, floor plans, FAQs, etc., can reach more people, thus amplifying your online presence. Through agent bios, customer testimonials, and behind-the-scenes posts, social media allows you to put a face to your real estate company. This humanizing effect makes it easier for clients to connect with you, establishing trust.
One of the primary advantages of integrating social media into your website is the ability to tap into each platform's user base. Sharing and connecting becomes easier, and your list of potential clients grows exponentially. Active social media profiles can improve your search results ranking. They work with your website's SEO strategy by driving traffic back to the site while adding to your online credibility.
Remember, a great real estate website design is about more than just listings – creating a community where information flows, and relationships are built.
Create Responsive Designs
Real estate agents must embrace responsive web design in this digital age. It's not simply one of many; it's a critical pillar for a successful digital presence within the real estate industry. A responsive real estate website design ensures optimized viewing experiences across various devices, from desktop computers to mobile phones. Here's what that entails:
With a large chunk of property buyers using smartphones for home hunting, a mobile-friendly real estate website isn't a nice-to-have; it's a must-have. Mobile optimization ensures you maximize your reach, catering to those clients who prefer scrolling on their phones over a mouse click. Responsive design drastically simplifies the user's experience on small devices, ensuring your listings, broker bios, and valuable content remain accessible and easy to navigate.
Nothing screams professionalism like a user-friendly website. Responsive web design adapts to different screen sizes seamlessly, maintaining the quality of visuals and ensuring smooth navigation. The template, typography, header, and homepage all adjust to provide an attractive, intuitive interface that speaks volumes about your commitment to the end-user's experience.
Responsive design isn't just user-friendly; it's SEO-friendly too. Search engines like Google favor responsive websites. High-quality, responsive real estate website design can turbo-charge your SEO push, driving organic traffic, enhancing your digital presence, and propelling you up those oh-so-important search engine ranks.
In the world of real estate, every impression matters. Responsive web design allows you to provide a consistent experience for your consumers across platforms, preserving your brand image and instilling trust among site visitors. Responsive design equates to less maintenance. Forget about the tedious job of customizing separate designs for different devices. A one-size-fits-all approach is not just smart – it's cost-effective and saves precious time.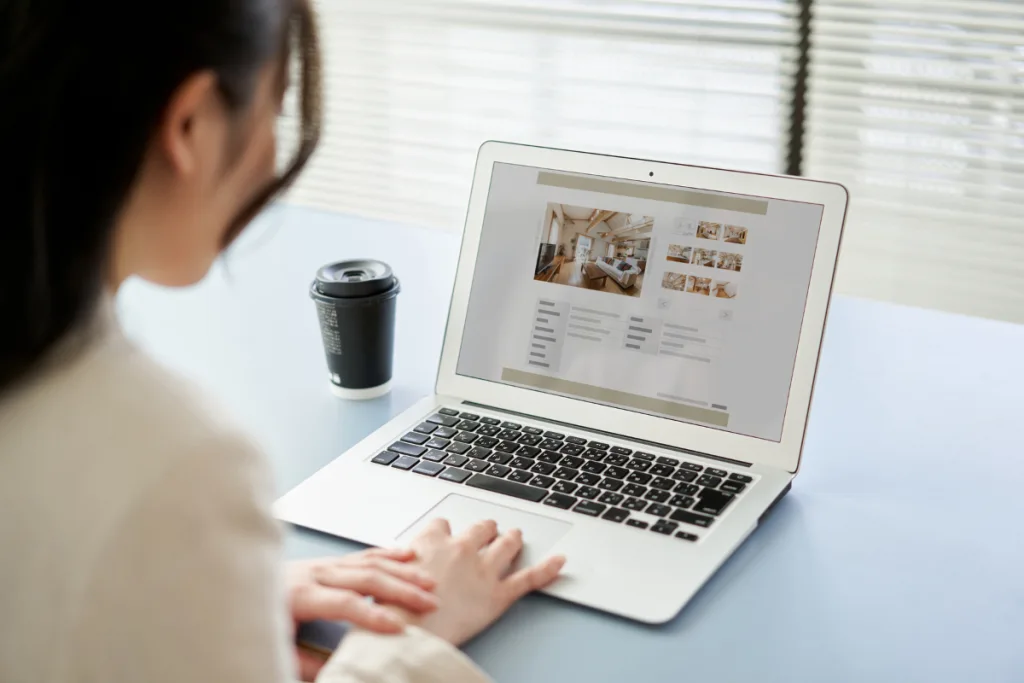 Your website is your calling card, your portal to potential clients, and the linchpin of your online marketing strategy. Opt for the best real estate website design that focuses on the user's needs, fosters a unique brand experience, and adapts according to the browsing device.
Contact Information & Live Chat
Keep your contact information visible at all times on your website – be it your phone number, email address, or office location. Additionally, a live chat option, where visitors can get instant responses to their questions, adds a touch of real-time personal contact to your online presence.
Consistency, along with these website design strategies, can help you create a robust digital presence. With focus and dedication, you could also capitalize on your website to secure the bag and advance your real estate empire. Embrace the digital shift and use your website as a competitive advantage in the dynamic real estate marketplace!