Standing out from the crowd is absolutely vital in the hyper-competitive world of startups. A modern, well-designed website can deliver that differentiation, helping to engage potential customers and investors.
But, with limited resources, how can startups achieve a compelling web presence? The answer lies in leveraging AI for web design. This innovative solution can streamline the design process, saving time and reducing costs. Let's delve into an overview of what website design AI means for startups.
The Basis To Creating A Website Design AI
Website design AI is a technology that automates web design creation. Rather than traditional methods where designers manually construct each element, an AI system can generate the design based on certain defined parameters.
For instance, platforms like Wix ADI, Bookmark, or The Grid utilize AI to simplify the design process. They employ machine-learning algorithms to recognize patterns and make decisions related to design elements and workflows. As a result, they can design a website with less guidance and human input.
AI website design uses AI tools and technology to create, design, and maintain websites. AI can automate several aspects of website creation, employing intelligent algorithms to suggest the best website design templates and assist in generating website layouts. From AI image generators to free AI website builders, AI technology reshapes how we create websites, making them accessible to a broader user range.
Application Of AI In Website Design
Template Selection: Start with AI's prompt for template selection. AI website builders are designed to sift through countless templates to find one that suits your brand best. They base their recommendations on understanding the best AI website patterns and designs.
Content Generation: AI can work wonders with content too. Generative AI can create unique and SEO-optimized content for your site, giving your startup a competitive edge.
Design Customization: Personalize your website design further with AI. From color schemes to typography, your AI tool will use data-driven insights to suggest design elements that attract your targeted audience.
Website Maintenance: AI doesn't just help you create a website; it also lends a hand in its upkeep. AI web design tools can predict and fix potential issues proactively, ensuring your site runs smoothly.
Image Selection: Choose images that align with your brand's message. AI image generators pull suitable, high-quality pictures that represent your business effectively.
The unification of AI technology within website design has sparked a significant shift in businesses' digital presence approaches. Today's best AI website builders, like the ones provided by Ostmosis Labs, offer an intuitive design tool that helps you create AI-powered, tailor-made websites for your business effortlessly. They support startups and let them build a website that resonates with their brand's persona without requiring any design expertise or technical knowledge.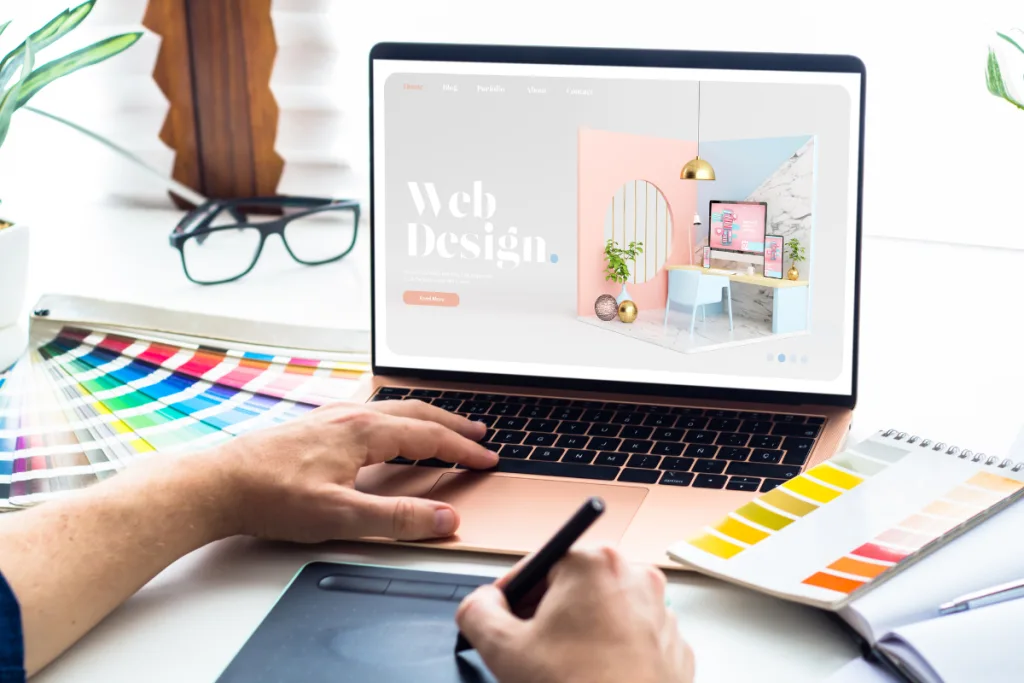 In the age of digital transformation, let Ostmosis Labs guide your web development right from website creation to maintenance and upgrades. This newfound reliance on AI for website design manifests the shift towards automated processes that save time, boost productivity, and foster creativity. Discover this revolution with Ostmosis Labs, where we bring AI tech to every startup's fingertips.
The Benefits Of Using AI Website Builder For Your Start-Up
Harnessing the power of AI for your website creation can elevate your startup's digital footprint. Leveraging AI-powered tools like an AI website builder eliminates the need for a professional web designer while ensuring excellent design style and quality. Here's a glimpse into the myriad benefits of utilizing AI in the web design process:
1. Simplified Design Process
With the best AI website builder, the entire website-building process becomes less tedious and more efficient. AI algorithms have the potential to generate a website from scratch, efficiently streamlining the design process. This can be especially beneficial for website owners who lack technical expertise. With the advent of excellent AI tools, you can:
Use innovative AI to create a stunning website in minutes.
Build the website with the help of AI, eliminating the need for coding expertise.
Use AI content generators to create engaging content for your web pages.
In essence, the power of AI simplifies website creation, turning a complex job into a simple, manageable task.
2. Cost-Effective
Integrating AI within your web design process is a smart, cost-effective move. By using AI website builders like those used by Ostmosis Labs, you can create a professional website without costly investments in web designing professionals. AI tools like "Framer AI " or Hostinger AI website builder offer a cost-effective means of website building, irrespective of the website type you need.
3. Quality Assurance
Leveraging AI for website design ensures quality and consistency across your site. From the UX design style to the AI content, every aspect of your website is streamlined and optimized, ensuring website quality at its finest:
With built-in AI, design errors are minimized, ensuring your website functions optimally at all times.
Use AI code generators to generate your website, optimizing for speed and performance.
An AI heatmap can help optimize your website layout for maximum user engagement.
A blend of AI and human interaction promises flawless web pages that stand out in the sea of digital mediocrity. In a nutshell, AI serves as your key to quality assurance.
4. Personalization
AI technology can analyze user behavior to deliver personalized experiences. This could mean displaying certain content based on past user activities, tweaking the site's navigation flow, or auto-suggesting products and services to potential customers.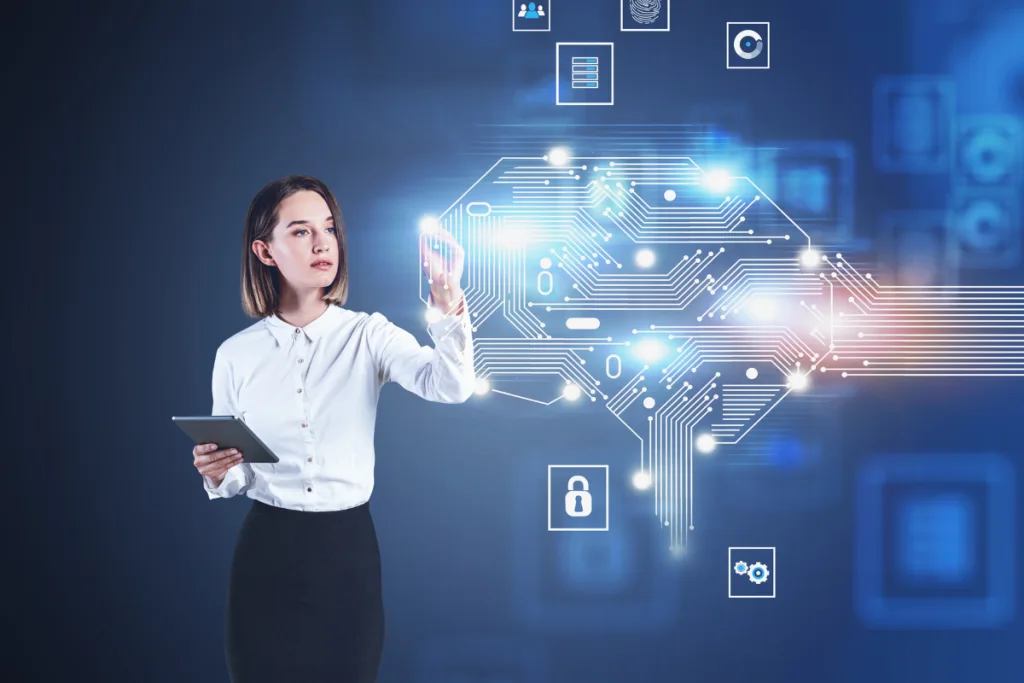 5. Consistent Design
AI-driven tools ensure design consistency across all web pages. This means colors, fonts, and styles match throughout the website, providing a better user experience and reinforcing your brand identity.
6. Ongoing Optimization
An AI designer isn't a one-time tool. As new data comes in, the AI can continue to refine and optimize the website's design and functionality. This means the user interface can improve over time, increasing conversion rates and customer satisfaction.
Integrating AI into the website creation process with an AI-powered website builder tool is the first step to revolutionizing your business's online presence. AI site builders offer you the unique opportunity to create a website for free, powered by AI, ensuring you remain at the forefront of the digital revolution.
Some Of The Best AI Website Builder Tools
Leveraging AI website builders' potential can transform your startup's online presence, ensuring you stand out from the crowd. These powerful AI tools streamline the website creation process, enabling you to easily build high-quality, professional-looking websites. Let's explore some of the popular AI tools in the web design landscape:
1. Wix
Wix is best known for its easy-to-use AI website builder. With many templates and an AI assistant that helps you create a stunning website, Wix caters perfectly to beginners and pros alike.
2. Bookmark
Powered by their intelligent design assistant (AiDA), Bookmark offers an AI-generated website design within minutes. Its strength lies in its simplicity, eliminating the hassles of manual editing and enabling even the most inexperienced user to build a website.
3. Firedrop
Use AI to design websites efficiently with Firedrop. It personalizes your design process by incorporating an AI assistant, Sacha, who interacts with users, understands their requirements, and creates a unique website design accordingly.
4. Grid
Although inactive currently, Grid deserves mention as a pioneering AI tool that attempted to revolutionize website design. It introduced the concept of using AI to auto-design, aiming to create websites with AI solely.
In the age of digital transformation, AI is changing the field of website design by making it accessible, efficient, and affordable for startups. With countless resources spent on development, marketing, and operations, AI-powered website design can provide a cost-effective solution that doesn't compromise quality or aesthetics. For startups looking to build their online presence, website design AI offers a powerful, dynamic solution.
As AI continues to evolve and improve, the potential for even more sophisticated and user-friendly website designs is enormous. It's an exciting time for startups to use these innovative tools to create engaging, impactful websites that help them stand out!