Every artist and musician carries within them the spirit of creativity. Their unique perspectives translate into tangible art forms, captivating the world's audience with their distinct, inventive flair. But while their talents often go forth into musical notes and brush strokes, they sometimes can overlook the digital plane – the vehicle their artistry relies on to reach the broadest audience possible. This is where compelling web design graphics come into play.
But how does a web designer transcend the ordinary and tap into extraordinary branding?
It's all about the intricate blend of visual aesthetics – template, font choice, and compelling logo design, supported by the technology-driven layout, CSS capabilities, and optimized file sizes for enhanced user experience (UX).
This blog post will guide you on creating a compelling web design graphic that underscores your unique artistic persona and helps elevate your online presence.
Understanding Your Personal Brand
Your brand is not just a logo, a font, or a set of colors. It represents your identity as an artist or a musician. The first step in creating a winning web design graphic is understanding what your brand stands for. As artists or musicians, your creative work reflects your unique personality and vision.
Whether it's through an electrifying template or a subtly sophisticated layout, your brand identity should resonate with your own story. Astute web designers know how to negotiate with pixels and lines of CSS to establish that unique identity.
Who are you designing for?
Who are the listeners to your melody, the admirers of your art? The design elements, typography, and file size all play critical roles in shaping the UX, significantly influencing user behavior and interaction. For instance, a jazz musician's audience might prefer a sleek, vintage-style interface with art-deco graphics, while a pop artist's audience might lean toward vibrant, energetic UI elements with modern typography.
Pulling these elements together is where Ostmosis Labs shines. The perfect balancing act between a graphic designer's creative vision and a web developer's expertise in crafting a swift, seamless user interface leads to an engaging user experience.
A deep understanding of your personal brand is key to resonating with your audience and truly expressing your brand's sound and vision through your website. This is where the art meets the strings of code, and your digital stage is set for the world to see—a harmonious blend of creativity and technology.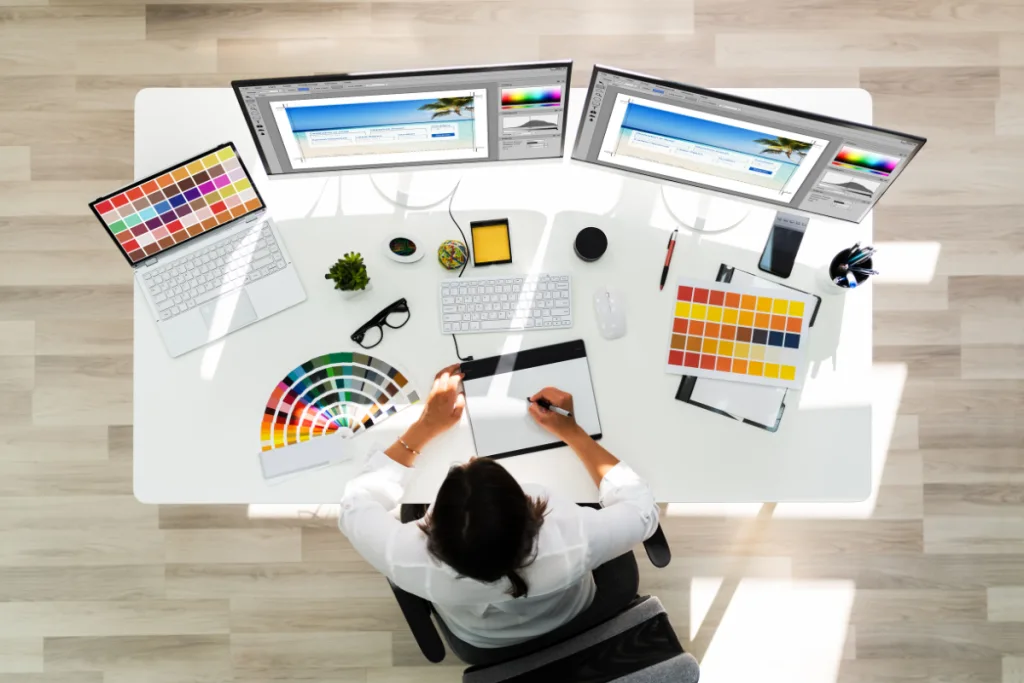 The Role Of Web Design Graphics
Web design graphics serve as the game-changer in setting the first impression of your brand and telling your story visually right when the user lands on your site. But what makes up these impactful web design graphics, and how do they differentiate from graphic design in terms of creativity and technology?
1. Setting the First Impression
Setting the right first impression is crucial when visuals claim our attention in seconds. Using tools like Adobe Illustrator, Dribbble, or other high-quality design resources, web designers and graphic designers join forces to create compelling graphics.
The web designer's job does not end at aesthetics alone; they must work with web developers, incorporating their knowledge of HTML and CSS to create a dynamic, interactive space that helps foster immediate connection with visitors.
2. Key Components
Uniquely designed graphics typically include:
Background Visuals: Like a perfectly set stage for an art or music performance, they set the mood for your site.
Logos: Logos serve as the cornerstone of your brand's identity, consistently visible across all channels.
Color Schemes: They shape the look and feel of your brand and evoke specific emotional responses from your visitors.
Typography: Fonts are essential in enhancing your brand's visual appeal. Different text styles can tell different aspects of your story.
Above all, a good web design is interactive. Unlike static graphic design, it allows users to interact with the design, arguably one of the key differences between graphic and web design.
Stay plugged in!
Key Elements For Compelling Web Design Graphics
Creating a striking and memorable web design graphic flows from the perfect blend of creative vision and technological prowess. Uncover the key elements crucial for a captivating online presence:
Color Scheme: The right palette evokes emotions, conveying the mood and tone of your brand and your art. A vibrant, energetic combination might express a cheerful personality, while a monochrome or subdued palette might convey a more dramatic, serious tone.
Typography: With a wealth of available fonts, choosing the right typography is vital to establishing your brand's personality. Select typefaces that complement your brand's character and message, ensuring readability and style throughout the user interface.
Imagery: Use captivating visuals, illustrations, and icons that resonate with your audience, fostering an emotional connection between users and your brand. Choose images that reinforce the essence of your music or art and captivate your visitors.
Logo: Synonymous with brand recognition, your logo should represent your brand's identity in a simple, recognizable, and memorable form. Ensure your web design accommodates your logo both in size and style.
Consistency: A seamless, consistent user experience is key. Ensure coherence between colors, typography, imagery, and your web design layout to create a smooth user journey. Implement CSS and web development skills for a flawless presentation.
Remember, web design graphics are the visual symphony relaying your brand's essence to your visitors. By harmonizing color schemes, typography, imagery, logos, and consistency within this creative space, your brand will leave a lasting impression, luring users to explore each cadence in your online presence.
Let the visuals dance to the perfect harmony and create a memorable connection with your audience, setting your brand apart.
The Design Graphic Tools
Compelling web design graphics elevate your brand, marrying graphic design and web design and showcasing the synergy between visuals and functionality. Ostmosis Lab's web design professionals recommend these indispensable tools to create engaging designs:
Adobe Photoshop: With expertise in textual elements and adaptation, this tool is central to a web designer's job. An industry giant, Photoshop is the world's best choice for photo editing and web design.
Adobe Illustrator: A powerful vector graphics editor, Illustrator exhibits the knowledge of HTML, helping web designers create a visual language. Whether you're an experienced or aspiring designer, Illustrator is indispensable in your toolkit.
Canva: With a plethora of web design inspiration, Canva simplifies the design process. Its templates help talented web designers craft an impressive look and feel for designs that captivate the audience.
PicMonkey is a user-friendly online tool that allows designers to adapt and change graphics swiftly. Useful for creating visual elements, PicMonkey supports web designers in their creative journey.
Together with cascading style sheets (CSS) and hypertext markup language (HTML), these tools empower creative designers to develop a comprehensive design that effectively tells a brand's story. Use these tools next time you work on your design and witness the difference behind quality web design graphics!
Chart-topping websites for artists and musicians have one thing in common: their design eloquently bridges the digital and creative world by spotlighting their persona and adding value to their user's journey.
Remember, consistent and compelling online branding equals a controlled perception, enhancing your genre's reputation and recognition. As an artist or musician, harness this digital potential to compose an exceptional symphony of brand identity.